By this system, companies can get historical meter functions. This functions includes alarmi heat usage analysis, radio control systems and etc. This functions makes the ease the process of billing department and improve the customer satisfaction.
Security, low costs, easy usage and easy maintenance substructure creates this vision.
in this context, AMPS company provides creative solutions with its unique network technology.
With our technology one wireless meter reader sets to each building. Meter readers organise each other within their selves and sends datas to the base station. Base station connects to internet and sends datas to thebdata center of the measurement company.
When you compare our sysrem with GPRS or similar Technologies, our sloution is free of cost and works in ISM bands and independently from GSM operators.

Advantages of the products are; 1. No communication expense. Our devices works on ISM band (Industrial, Electricity, Gas, Water meters, heatmeters) are usable. 2. High trust. Our products provies %99,9 data communication trust. 3. Easy Setting. Eaxh readers are both data collector and channeler for other m-bus readers' datamigrations. No need to manual network configuration for users. Wireless meter reading system includes wireless m-bus reader and base station. Wireless m-bus connects to heat meter over m-bus. Wireless m-bus reader send high trust datas to base station and base station sends datas to center by internet.

Wireless m-bus reader
Wireless m-bus reader sets to each building. All heatmeters in the building connects to this reader. Reader, sends the datas of the meters to the base station over wireless connection. When one of the reader has a connection with base station, sends the data. System shema shows in Figure-1.

Base Stations
Base stations collects all the datas with the same ID from m-bus readers. Base stations may establish a connection with radio service servers by broadband internet or seriall connection points.

Data Servers
Data servers provides storage, data processing and real time showing of the real time datas.

Working Principal
M-bus readers collects the datas of all meters. Readers sends the data of the meters to the base station over network. Base stations may connect with a computer by a seriall connection points or additionally they can send datas to the servers.

All system diagram shown in Figure 1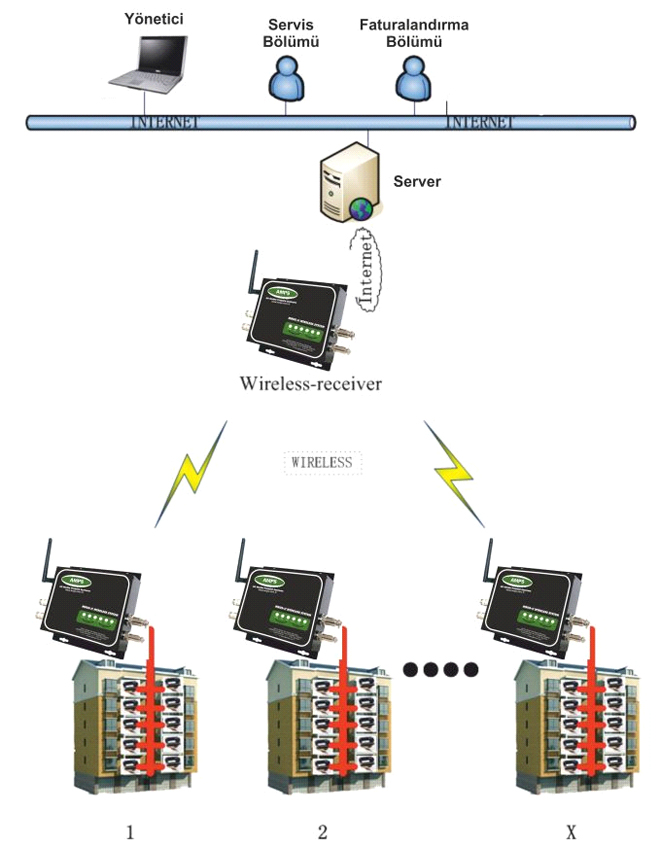 SYSTEM ADNAVTAGES

No communicaiton fee
Wireless network is free of charge. Operator needs using withour communication fee.

Opponent response
by our Patented multi channel communication technology, if some other users response to seome of the channels, our product continues to works on other channels. This technology solves the joint ISM band response problems and develop the anti response ability.

Wide Coverage
Multi jumping wireless network creates 2500 mt semidiameter coverage. This meets the needs of most of the administration.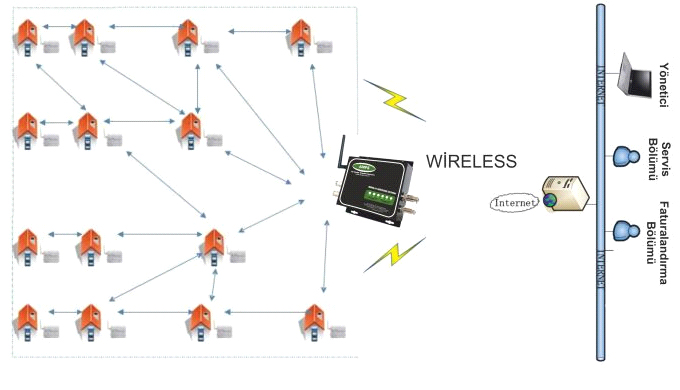 East to Set and Configuration
Because of wireless communication, our system don't need digging bor cabling between the blocks and join to network without human hand. 

Strong Scalability
When more coverage area needed, users only needs to add more wireless readers. This readers will connects to network automatically.
 
 

Base Station

Wireless M-bus Reader

Nominal Voltage

DC/220

50Hz/60Hz

DC/220-DC/5V

Nominal Capacity

36W

2.5W

Freakans Band

2.4GHz/433MHz

2.4GHz/433MHz

Communication Range

1000m/2500m

1000m/2500m

Interface

Meter-bus

RS232/RS485/RJ45



Device parameters:
•Rated Voltage: AC220V ± 10% 
•Nominal Power: 36W 
•Working Heat: -40 ~ 80 ℃ 
•Wireless Band: 433MHz/2400MHz 
•Wireless electricity communication: 50mW 
•Meter reading period: 1 saatten daha az 
•House protection class: IP23 

Software Screen
As shown below, in the case of illegal using, you can see the heat ilflow and out flow range, flow, illegal data analyze table on the graphic screen.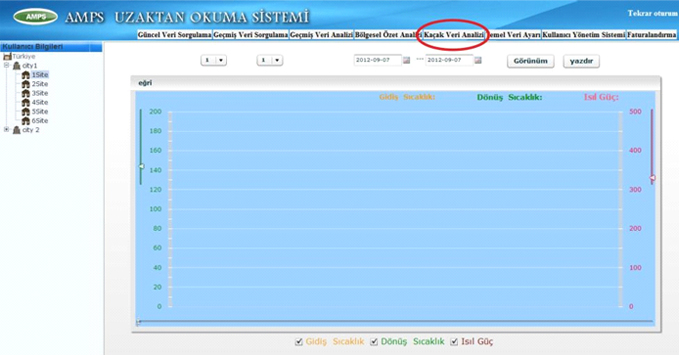 Real Time Billing
As shown below, all bill shown in screen and given in pdf format. Also you can take excel table for the all users's bill amounts for accounting services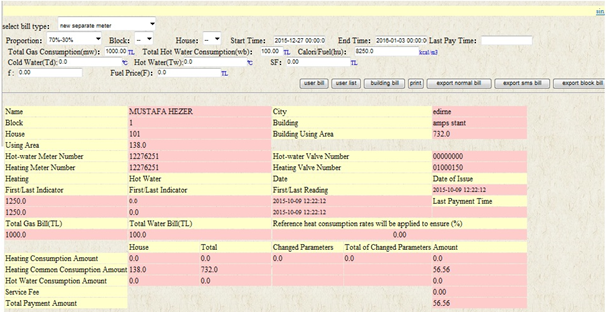 System is working 24 hours in a day and can send you data seven in 30 minute periods